Spondon Archive is a joint venture between the Village Improvement Committee and Spondon Historical Society. It aims to publish a series of booklets about Spondon past and present. Some will be original material, others will be re-publication of existing documents with an objective of making them available to a wider audience.
There are now 21 books in the series:
"The Malt Shovel, Spondon" by David Hayes
"Spondon Clubs and Societies 1861-2011" edited by Reg Pugh
"Exploring Spondon" by Ruth Hooper and Anita Hayes
"Canoes to Commuters" by Derek Hathaway
"The Parish Church of St Werburgh, Spondon" by Reg Pugh
"The Methodist Church, Spondon" by Christine Cameron
"Spondon School 1662-1839" by Dr E J Kenedy (including a short biography of the author)
"Spondon School 1839-1964" by Dr E J Kenedy
"Spondon Goes to the Pictures" by Anita Hayes and Ruth Hooper
"My life in Spondon and other great places" by Frank Hooley
"Scouting in Spondon" by Jim Moore and Les Pearson
"Spondon's Power Stations: A century of change and innovation 1917-2017" by Peter Heath and Alan Hunt
"Spondon Remembers, the war memorials  of Spondon" by Derek Hathaway 
"Church Hill and Potter Street" by Anita and David Hayes"
"A Village Remembered" by Ken Porter
"Spondon Hospital 1914-1919" by Derek Hathaway
"Spondon Pubs and Clubs - A Social History" by James Wilson
The Life and Times of Anne Topham of Spondon by Anita Hayes
John Stower's Spondon 1895 to 1980
The Evolution of Farming in Spondon by James Wilson
Guiding in Spondon by Sue Preedy
All the books are available in the village from Spondon Pharmacy (formerly Housley) and  Simnett Funeral Directors. Most are priced at £2.50 or £3.50, with the recent Anne Topham and Farming in Spondon books at £5.00.  If you would like us to post a copy of any of the books (either in the UK or abroad), please e-mail us for further details.
Suggestions for future booklets are welcome - please e-mail us.
Latest Titles
Guiding in Spondon by Sue Preedy
This new title celebrates over a century of the Girl Guides movement in Spondon.
The first Spondon Guide company was formed in 1918 and this title delivers a snapshot of the history of the organisation.
Written by Sue Preedy, who herself has been involved in Guiding in Spondon since 1962, the book features a whole host of information, stories and memories plus photos from across the decades.
The Evolution of Farming in Spondon by James Wilson
Did you know that Spondon was once home to more than 30 different farms? Early Spondon was mainly agricultural, with 95% of the population either owning, renting or labouring in the fields.
The history of farming in the area is explored in the latest book in the Spondon Archive series. It charts the evolution of farming in Spondon from the dark ages to modern times and recalls many of Spondon's former farms and their locations. You may even find that you're living in a house that once stood on some of the village's farmland!
John Stower's Spondon 1895 to 1980
The memoirs of former Spondonian John Stower tell the story of Spondon life from the late Victorian era up to 1976. 
From tales of boyhood exploits to later fighting in both world wars and to having a wife and family of his own, John has left memories of a Spondon long gone. 
The Life and Times of Anne Topham of Spondon by Anita Hayes
Anita Hayes looks at the fascinating story of Spondonian Anne Topham who lived most of her life in Spondon but, for a period between 1902 and 1909, was English Governess to Princess Victoria Louise, daughter of Kaiser Wilhelm II of Germany.
The book recalls her experience of living with the German Royal Family, including extracts from the three books she wrote about her time at the Royal Court, including her witnessing Orville Wright fly his plane and the first Zeppelin flight over Berlin.
Spondon Pubs and Clubs - A Social History by James Wilson
James Wilson takes a look at the history of Spondon's pubs and clubs, both past and present. As well as detailing the past of all our existing hostelries, the book also remembers the pubs that Spondon has lost over the years - those in recent years and also those back through the centuries.
The book also explores some of Spondon's "mystery" pubs referenced through history and also remembers some of the clubs and traditions associated with Spondon's most popular venues over the years.
Spondon Hospital 1914-1919 by Derek Hathaway
During the First World War, Spondon House School was requisitioned as an auxiliary hospital. Between 1914 and 1919, the school-turned-hospital (on the site of where St Werburgh's School now stands) treated wounded soldiers as part of the war effort.
The book tells the story of the hospital and explores the lives of some of those who worked there. It also looks at the Hospital's impact on the wider Spondon community as a whole and contains numerous old photos of Spondon and the hospital.
Spondon: A Village Remembered, by Ken Porter, 1925 - 2012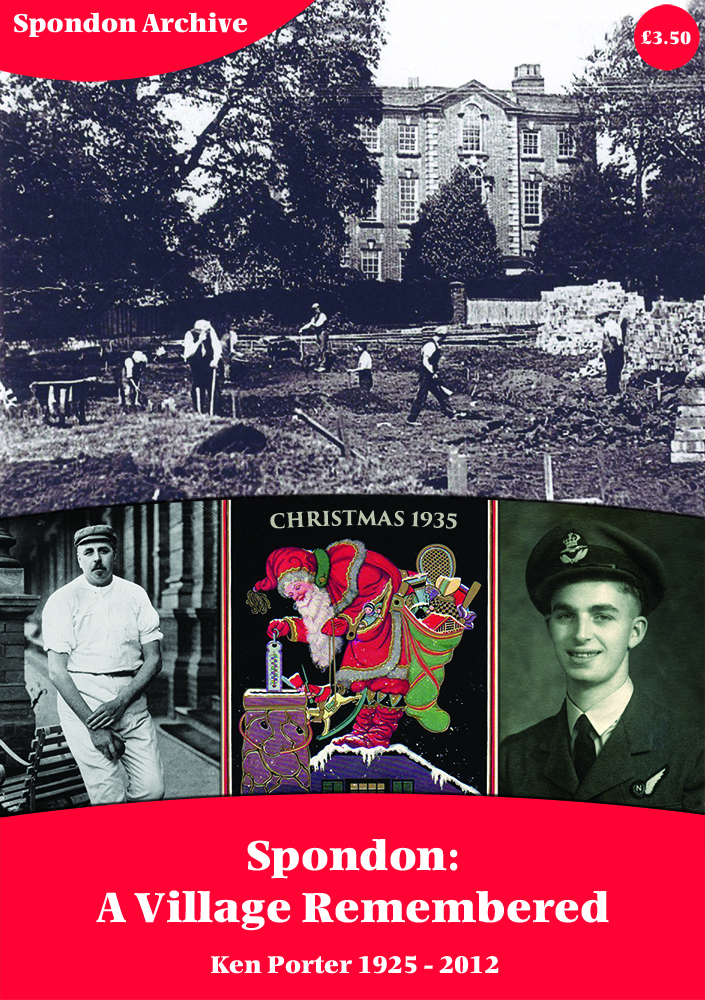 Recollections of a bygone time in Spondon from former local resident, Ken Porter. 
Ken shares his memories of growing up in Spondon and also recalls a famous Spondon cricketer, Christmas in the village, the history of the Porter family and a nostalgic look back at the schools, churches and countryside where Ken grew up.
Potter Street and Church Hill
For centuries, this area has been the heart of Spondon and the stories behind the properties, still existing or long gone, offer a fascinating glimpse of the people who lived and worked there.
The authors have done extensive research and uncovered many personal reminiscences.
"Spondon Remembers, the war memorials  of Spondon" by Derek Hathaway 
This title describes the existing - and "lost" - memorials of Spondon, with a complete list of individuals and some of the families named there.
Some of the research that could not be put in the book has been used in the excellent website, Derbyshire War Memorials. The Spondon section can be found here. 
Thanks to a grant from the Coop Community Fund, an information board was installed at South Avenue Recreation Ground, purchased in 1922 as a war memorial and presented to the village. The board was officially unveiled on Friday 28 June 2018 to mark the centenary of the Treat of Versailles which brought the First World War to a formal end. The unveiling was performed by David Palmer, President of the Spondon Branch, Royal British Legion and Gwen Swainson of Spondon's last Parish Council (who took formal ownership of the ground). Pictured left is Howard Williams, Chair Spondon RBL, David Palmer and author Derek Hathaway.
The grant was enough that we were also able to fund the planting of five additional trees at the park.
Power station book
For 100 years a series of four power stations sat on the plain below Spondon village. They provided the energy which allowed British Celanese to run its profitable industrial base here in Derby. The site was ideally situated next to the River Derwent with rail and road links to coal sources, which provided the essentials for power generation. This provided work for thousands of people over many years.
The great buildings are gone; power sources are changing and employment moves on.
Spondon Archive is pleased to publish this book, which we feel goes beyond the bounds of local history and is of interest to anyone who cares about our industrial heritage.
Future publications
There are a number of further books in various stages of completion, with work in hand on a history of the Guides, and Celanese.